Sales conversion is a tricky topic and I'm often asked how to convert marketing leads into sales, as well as how to establish see if enquiries are serious. It's this that has spurred me on to write this blog.
Establishing marketing ROI (return on investment) can feel a bit like a minefield. Without hard facts, how can a business owner truly say that their marketing spend resulted in clients? There are so many options available, and it can be increasingly difficult to link your marketing spend to sales (unless you are looking at paid adverts which link straight to your sales page). As a sales-focused business coach, mentor and sales trainer, I know many larger businesses deprioritise marketing activity in favour of sales investment, simply because it's easier to quantify. Yet for the longer-term success of your business, a well-executed marketing strategy is essential. The key is sales conversion – establishing how to turn your marketing leads into clients.
What is the difference between sales and marketing?
The Cambridge Dictionary puts the definitions of sales and marketing in simple terms:


With these two definitions in place, it's already easier to see how they work together. Marketing entices your prospect, whereas the sales function converts them into a client.
And here's the crucial detail, your marketing must be integrated with your sales strategy for it to be successful. Most marketing gently warms up your prospects from cold and drives them to a click, like, comment or other expression of interest.
Sales is the second part of story – it's the act of progressing these prospects into opportunities. This includes nurturing them and ascertaining what they need. You can then see if there is a match for the products or services that you offer.
There is an exception; paid advertising with a 'buy now' call to action or similar. This takes your prospect straight to purchase, but is a topic for another day.
---
Be realistic. What can marketing actually do for you?
They used to say it took seven touches of marketing to create a sale. But realistically, it can be anything upwards of this number. If you're using telemarketing or social media, you should allow for seven touches at the bare minimum.
Marketing should feature in your strategy, but you can't rely on it as a single source of new clients.
From my experience, marketing falls into four broad categories, each including a range of marketing tactics:
Awareness driving – this includes activities such as PR, social media and advertising. These methods are notoriously difficult to evaluate with a direct ROI, unless you're incorporating some form of paid advertising.
Engagement – this can relate to employees, clients or suppliers. Ultimately, the closer you are to your target recipient then the better and longer lasting that relationship will be.
Channel marketing – this model is primarily used for industries who sell through the channel via partners such as IT and manufacturing. Other examples include network marketing.
Lead Generation – here, you perform an activity purely to generate leads. The best way to do this is to integrate your offline and online efforts so everything leads to a direct touch point. This is a common approach in corporate marketing. The majority of my corporate roles came with a sales pipeline and converted revenue target – yes even from marketing spend!
But, I hear you ask – how do I turn my marketing investment into sales? My answer as a sales-focused business coach is almost predictable – by having a focus, processes and discipline in your business!
---
Five ways to improve sales conversion
1. Identify your most profitable clients
If you've run your business for a while, you will have a bank of clients you've worked with. This will be the case whether you are a solo business owner or have a team that works for you.
Spend some time analysing your data and you'll be able to establish the trends to identify your ideal and most profitable clients . You will also be able to identify those who are not ideal clients. Criteria might include their industry, the work you do for them, their company size and even the age of your primary contact and personality traits.
With this work in mind, you will be able to find ways to replicate these ideal client types and focus your marketing activities towards them.
---
Think about this…
What is it that makes a client ideal for you? Work out a way to measure this based on face and not feeling.
2. Use sales best practice for fastest growth
Business owners often come to me because they want to increase their revenues and the first thing they think of is sourcing new clients. However, the best way to benefit from shorter sales cycles with the highest chance of a successful sales conversion is to approach people who already know like and trust you. That means focusing on your existing clients with your existing products.
The longest sales cycles with the highest risk on winning clients (or to look at it another way, the hardest approach) is to try to sell your services to people that have never heard of your company.
But guess what? There is a lot of opportunity that sits in the middle of this. Non-competing businesses that target the same clients as you, your former clients, not to mention your personal and private networks.
This is not to say you shouldn't do any marketing to attract new clients but instead ensure you are aware of this model, so you can maximise it within your business.
Think about this…
How many of your existing clients use just one of your services? Could you provide other services to them as well?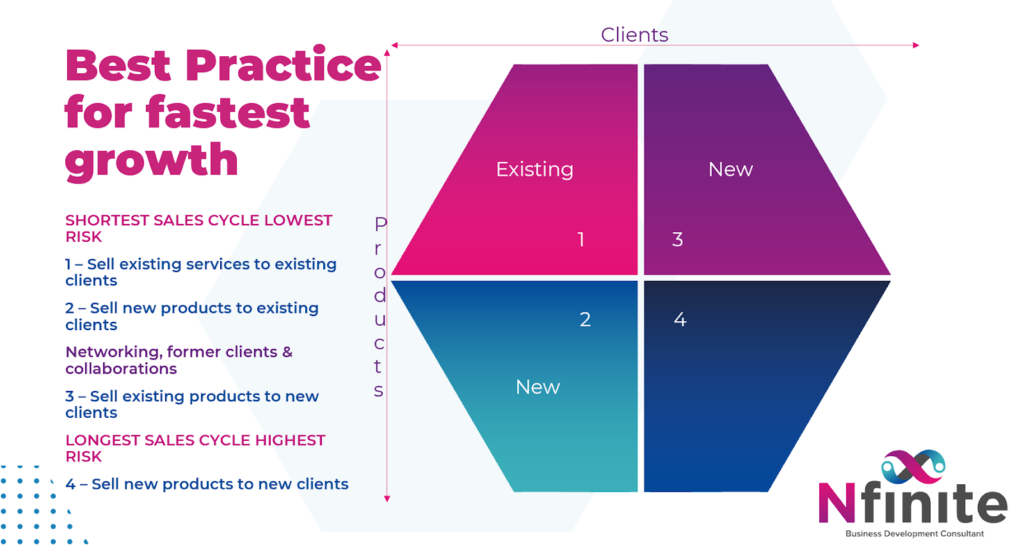 3. Do your clients know everything you do?
Nothing like preconceived ideas, hey?
Do you really know what your clients buy from you? More importantly how do they know what all your services are? We assume our clients know everything we sell but I can assure you that the more you offer, the higher the chance that your clients don't know your full offering.
A little reminder! Although it might be easier for you to email your clients, this is rarely the best approach in this instance. Spam filters may block your email, busy inboxes mean your email may be lost and your client might not be an "email person". Just because email is your preferred method, the chances are it may not be theirs.
Think about this…
How could you contact your clients to see what they think you offer?
4. Think about the bigger picture, however small your business is
Many business owners feel pressure to invest time in marketing, specifically social media, without thinking about the bigger picture.
That's why I encourage my clients to carry out both quantitative (facts and figures) and qualitative (feelings and opinions) research. My work as a sales mentor and trainer has shown me that so many businesses don't really know where their audience presents themselves. However, once you know this detail, you can turn up where they are and let your marketing and sales tactics work their magic. You'll know you are presenting your business on the right platform, and in the right place based on fact – not feeling. Remember that planning your marketing is not that different from a business plan; as Simon Sinek would say, start with the end in mind. Then you can work out what you want to achieve, define realistic measurements and finally, decide what activities would be best suited.
Think about this…
Set goals and then plan your sales and marketing activity to deliver against these.
5. Ensure you set up qualification measures
Whether you are following up a website enquiry from people who entered their details on your website or from people who visited your stand at an exhibition, qualification is key when it comes to sales conversion.
A marketing lead, otherwise known as an MQL (Marketing Qualified Lead), is generally an open expression of interest. In comparison, an SQL (Sales Qualified lead) is defined at the stage of qualification.
I believe businesses struggle with sales conversion because they don't set up qualification measures. Without qualification measures, you or your sales team could be wasting time following up with people who are not real prospects.
To turn your marketing leads into sales leads, you need to establish some basic facts – by using qualification measures.
These include
Defining their budget – what have they decided they can invest in your goods or services?
That you are speaking to the decision maker – are they authorised to purchase or sign off a purchase or do they have influence in the process?
Understanding their requirements – then you can ascertain if they are a good match for what you offer
Understanding when they are likely to purchase – can you serve them on a mutually agreeable timeframe?
With this detail in place (qualification part 1), you will now know whether your lead has moved to a genuine potential client. Without this information, creating a proposal will be a waste of your and your team's time.
Think about this…
Create a template that lists out your basic qualification measures. This will help you and your team consistently qualify marketing leads before investing further time in them.
Want to improve your sales conversion? Sales and marketing must work together
Sales and marketing will work their hardest for your business when they are aligned and there are clear expectations of what each must deliver. It's not an easy balancing act and there's no silver bullet for driving exponential growth.
Find out how I helped one client convert her enquiries into clients without offering rock bottom prices. Do you need some help aligning your sales and marketing or establishing qualification measures? After all, you probably didn't start your company to be a sales or marketing person. Book in a free discovery call to see how I can increase your sales conversion figures and grow your business.
---