As you've decided to read this blog about differentiation, I'm going to guess you work in a highly competitive profession where there are a lot of other businesses offering something similar to you and competitive advantage is key.
Knowing and exploiting your points of difference can form the basis of your competitive advantage. However, you won't be able to establish this if you don't evaluate your competitors in the first place.
I am not talking about comparisonitis – the compulsion to compare yourself to others. This can quickly become negative and affect your mindset. Instead, I am referring to a logical approach where you better understand your competition. You can then start setting yourself apart from the crowd.
What is competitive advantage?
Competitive advantage is often associated with high-volume, consumable products. Phones and household appliances are great examples. However, regardless of whether you sell a product or an online service, differentiation is key.
Why is a competitive advantage important?
A competitive advantage is important because of the way it helps us define our prices, and where we want to play in our market in terms of value versus cost. As the diagram below illustrates, when we think of cost, speed and quality nobody can offer all three! Differentiation is also key to the way you talk about your business, how you market it and where you present yourself to find your ideal clients.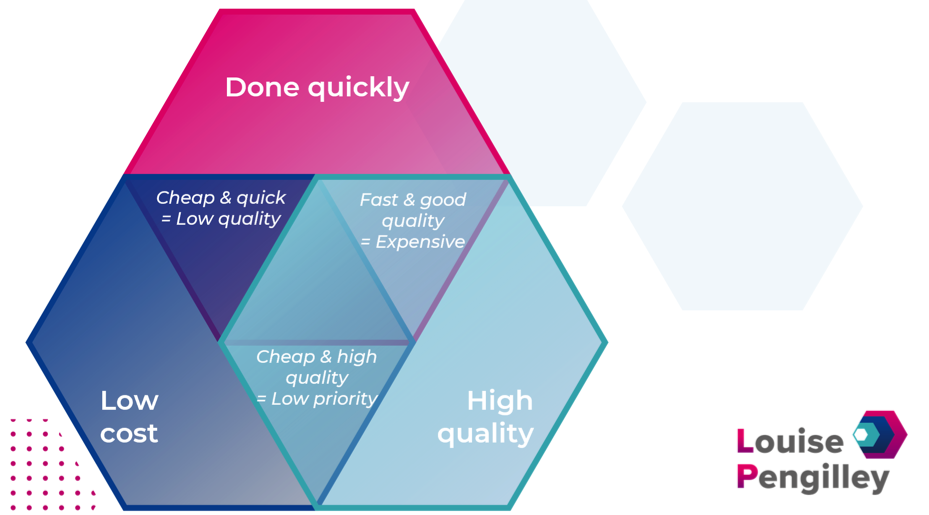 How to start identifying your competitive advantage
With this knowledge in hand, how should you differentiate yourself to create a strong competitive advantage?
You may have a ground-breaking product or technology which you've been able to trademark thanks to its uniqueness. As a result, no one else can offer what your business does – a clear competitive advantage! However, very few businesses can relate to this, particularly service-based businesses with an abundance of competition.
Here are my top three suggestions to help you identify your points of difference:
Draw up a list of 5-10 of your competitors and evaluate their offering, pricing, messaging, positioning, where they present themselves, and who their audience is, in comparison to you and your business.
Conduct market research into your prospects via online forms. I'd recommend you target a minimum of 100 responses for robust statistical analysis. Carry out in-person or Zoom meetings with your existing & former clients.
Carry out a full SWOT analysis (example below) to establish how you are different. What are your strengths and which of these are unique, special, or different? What are your weaknesses, opportunities, and threats? Don't keep things one-dimensional – your analysis should run across many disciplines such as customer service, quality, convenience, technology, and pricing.
Situational analysis SWOT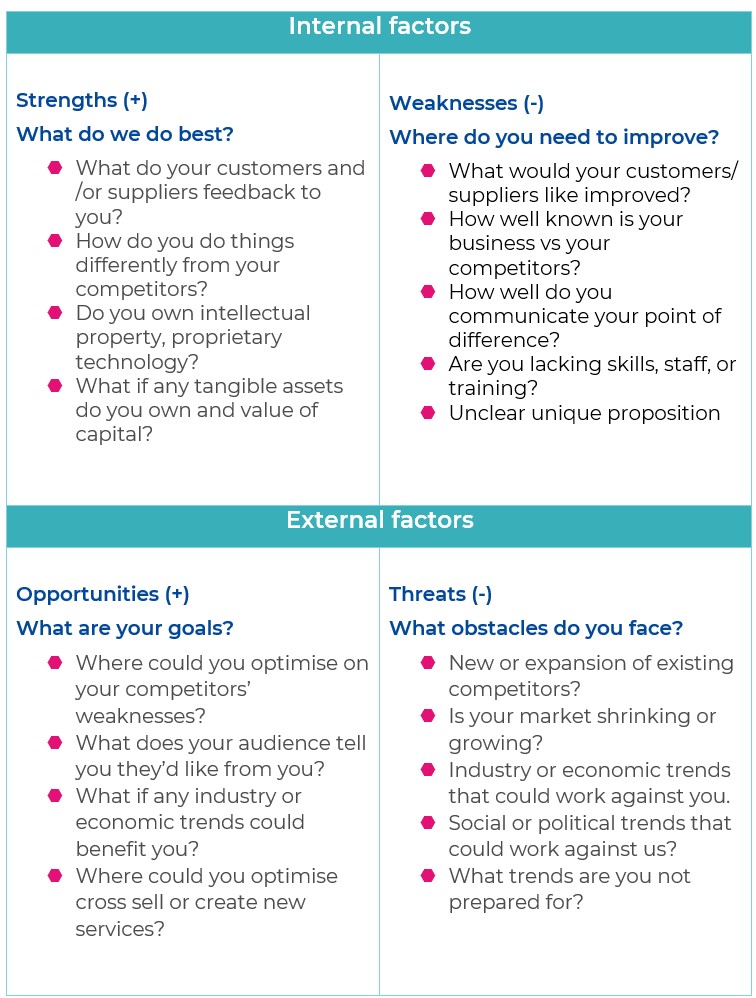 With this in place, you'll be able to identify what makes you different. You can then lead with this competitive advantage in your sales and marketing activity, making it clear to your prospects why they should work with you instead of with your competitors!
Wonderfully different!
Don't just listen to me, find out what my clients say about working with me and what makes me different.
I'm here to help you grow your business with confidence. Armed with nearly 30 years of experience, I give my clients practical, hands-on advice and flexible tools while also holding them accountable. It's the best way to get results!
Curious about how you could differentiate yourself further? Book a free discovery call. We can chat through your challenges together, and I'll be happy to give you some ideas of how you can start making changes straightaway!

---